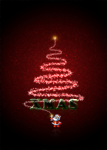 Welcome to the show! We are proud to bring the Chico area our display of Christmas lights. Come see us at 22848 SW Main St, Sherwood, OR
-  Our shows will start at 4:00pm and run continuously until 10:00pm, from Thanksgiving nigh through the first week of January.
Our Christmas light display is synchronized to music, broadcast over an FM transmitter to your car radio (93.3 FM). Sit in the comfort of your car and watch the lights dance to music!
2012 Has come with a flood of changes! To summarize… Jessica is now staying home with the boys full time, I got a job at Build.com and to top it all off, we moved to Chico, CA. All that said we will be having a 2012 show IN CHICO!