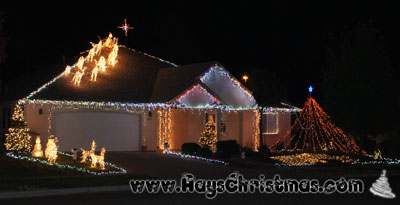 We have all but a couple strands up, and a few that have gone out since we put them up.
2012 in Chico looks to be a very fun show featuring Trans SIberian Orchestra:Wish Lizst
, Trans SIberian Orchestra:Nutrocker
, Wizards In Winter
, You're a Mean One, Mr. Grinch
, Palladio
, & Carol Of The Bells
… and maybe more if I can get them finished by early December. We are on schedule to start around 4:30 on November 23rd.
The shows are usually around 15 min long, then loop. Still working on finding a good FM frequency to broadcast from … all the good ones are taken in Chico.