I know what you are thinking… the 2012 season is not even over! I know! But I need to start thinking of next year to purchase all the needed stuff.
The Plan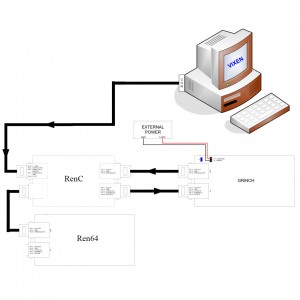 Greek (DIY Christmas style): PC to Ren64 to RenC to Grinch totaling 128 channels!
English: I will be building a new board/controller that is called a Renard 64 (Ren64). This board has 64 channels to control lights with (made by a guy with the last name Renard). I can then daisy-chain the Ren64 to the Grinch (Controller that I already have) through the Renard-595 Converter (RenC). This doubles the amount of channels that I have now!
The List
Ren64: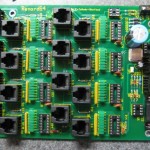 RenC: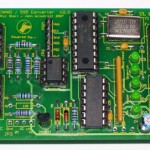 SSRez: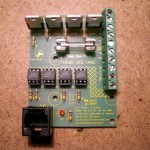 Product Detail
Order Qty.
Price
Ext.
Mouser #:
571-5-146281-6
1
$0.89
$0.89
Mfr. #:
5-146281-6
Manufacturer:
TE Connectivity
Desc.:
Headers & Wire Housings 6 P HEADER GOLD 30u single row
RoHS:
RoHS Compliant
Mouser #:
571-5-146281-4
1
$0.58
$0.58
Mfr. #:
5-146281-4
Manufacturer:
TE Connectivity
Desc.:
Headers & Wire Housings 04 MODII HDR SRST B/A LF
RoHS:
RoHS Compliant
Mouser #:
604-WP710A10GT
5
$0.10
$0.50
Mfr. #:
WP710A10GT
Manufacturer:
Kingbright
Desc.:
Standard LED – Through Hole Grn 60mcd 568nm 34 deg Transparent
RoHS:
RoHS Compliant
Lifecycle:
New Product: New from this supplier.
Mouser #:
815-AB-20-B2
1
$0.42
$0.42
Mfr. #:
AB-20.000MHZ-B2
Manufacturer:
ABRACON
Desc.:
Crystals +/-20ppm 20MHZ FUNDAMENTAL
RoHS:
RoHS Compliant
Mouser #:
581-SA102A220JAR
2
$0.19
$0.38
Mfr. #:
SA102A220JAR
Manufacturer:
AVX
Desc.:
Multilayer Ceramic Capacitors MLCC – Leaded 200volts 22pF 5% C0G
RoHS:
RoHS Compliant By Exemption
Info:
View Additional Product Info
Mouser #:
581-SA105E104MAR
2
$0.10
$0.20
Mfr. #:
SA105E104MAR
Manufacturer:
AVX
Desc.:
Multilayer Ceramic Capacitors MLCC – Leaded 50volts 0.1uF 20% Z5U
RoHS:
RoHS Compliant By Exemption
Info:
View Additional Product Info
Mouser #:
140-XRL10V10-RC
1
$0.06
$0.06
Mfr. #:
140-XRL10V10-RC
Manufacturer:
Xicon
Desc.:
Aluminum Electrolytic Capacitors – Leaded 10V 10uF 20%
RoHS:
RoHS Compliant
Info:
View Additional Product Info
Lifecycle:
End of Life: Scheduled for obsolescence and will be discontinued by the supplier.
Mouser #:
595-SN65LBC179P
1
$2.76
$2.76
Mfr. #:
SN65LBC179P
Manufacturer:
Texas Instruments
Desc.:
RS-485 Interface IC LP Diff Pairs
RoHS:
RoHS Compliant
Mouser #:
511-M74HC02
1
$0.49
$0.49
Mfr. #:
M74HC02B1R
Manufacturer:
STMicroelectronics
Desc.:
Logic Gates Quad 2-Input NOR
RoHS:
RoHS Compliant
Mouser #:
579-PIC16F627A-I/P
1
$1.91
$1.91
Mfr. #:
PIC16F627A-I/P
Manufacturer:
Microchip
Desc.:
8-bit Microcontrollers – MCU 1.75KB 224 RAM 16I/O Ind Temp PDIP18
RoHS:
RoHS Compliant
Mouser #:
271-1K-RC
2
$0.13
$0.26
Mfr. #:
271-1K-RC
Manufacturer:
Xicon
Desc.:
Metal Film Resistors – Through Hole 1Kohms 1% 50PPM
RoHS:
RoHS Compliant
Mouser #:
271-10K-RC
2
$0.13
$0.26
Mfr. #:
271-10K-RC
Manufacturer:
Xicon
Desc.:
Metal Film Resistors – Through Hole 10Kohms 1% 50PPM
RoHS:
RoHS Compliant
Mouser #:
271-27K-RC
3
$0.13
$0.39
Mfr. #:
271-27K-RC
Manufacturer:
Xicon
Desc.:
Metal Film Resistors – Through Hole 27Kohms 1% 50PPM
RoHS:
RoHS Compliant
Mouser #:
271-120-RC
1
$0.13
$0.13
Mfr. #:
271-120-RC
Manufacturer:
Xicon
Desc.:
Metal Film Resistors – Through Hole 120ohms 1% 50PPM
RoHS:
RoHS Compliant
Mouser #:
652-4610X-2LF-470
1
$0.39
$0.39
Mfr. #:
4610X-102-471LF
Manufacturer:
Bourns
Desc.:
Resistor Networks & Arrays 10pins 470ohms Isolated
RoHS:
RoHS Compliant By Exemption
Info:
View Additional Product Info
Mouser #:
78-1N5229B
1
$0.07
$0.07
Mfr. #:
1N5229B-TR
Manufacturer:
Vishay
Desc.:
Zener Diodes 4.3 Volt 0.5 Watt
RoHS:
RoHS Compliant By Exemption
Mouser #:
78-1N5239B
1
$0.07
$0.07
Mfr. #:
1N5239B-TR
Manufacturer:
Vishay
Desc.:
Zener Diodes 9.1 Volt 0.5 Watt
RoHS:
RoHS Compliant By Exemption
Mouser #:
571-5520251-4
4
$1.62
$6.48
Mfr. #:
5520251-4
Manufacturer:
TE Connectivity
Desc.:
Ethernet & Telecom Connectors 8/8 SIDE ENTRY
RoHS:
RoHS Compliant
Mouser #:
512-2N3904TA
1
$0.07
$0.07
Mfr. #:
2N3904TA
Manufacturer:
Fairchild Semiconductor
Desc.:
Transistors Bipolar – BJT NPN Transistor General Purpose
RoHS:
RoHS Compliant
Mouser #:
571-1-390261-5
1
$0.17
$0.17
Mfr. #:
1-390261-5
Manufacturer:
TE Connectivity
Desc.:
IC & Component Sockets 18P ECONOMY TIN
RoHS:
RoHS Compliant
Mouser #:
571-1-390261-3
1
$0.17
$0.17
Mfr. #:
1-390261-3
Manufacturer:
TE Connectivity
Desc.:
IC & Component Sockets 14P ECONOMY TIN
RoHS:
RoHS Compliant
Mouser #:
571-1-390261-2
1
$0.12
$0.12
Mfr. #:
1-390261-2
Manufacturer:
TE Connectivity
Desc.:
IC & Component Sockets 8P ECONOMY TIN
RoHS:
RoHS Compliant
 MERCHANDISE TOTAL:
 $16.77
Product Detail
Order Qty.
Price
Ext.
Mouser #:
140-REA682M1CBK1632P
1
$1.59
$1.59
Mfr. #:
REA682M1CBK-1632P
Manufacturer:
Lelon
Desc.:
Aluminum Electrolytic Capacitors – Leaded 16V 6800uF 20% 16×31.5mm
RoHS:
RoHS Compliant
Mouser #:
604-WP710A10SGC
1
$0.10
$0.10
Mfr. #:
WP710A10SGC
Manufacturer:
Kingbright
Desc.:
Standard LED – Through Hole Grn 150mcd 568nm 34 deg Water Clear
RoHS:
RoHS Compliant
Lifecycle:
New Product: New from this supplier.
Mouser #:
604-WP113GDT
64
$0.08
$4.86
Mfr. #:
WP113GDT
Manufacturer:
Kingbright
Desc.:
Standard LED – Through Hole GREEN DIFFUSED
RoHS:
RoHS Compliant
Mouser #:
78-1N5239B
1
$0.07
$0.07
Mfr. #:
1N5239B-TR
Manufacturer:
Vishay
Desc.:
Zener Diodes 9.1 Volt 0.5 Watt
RoHS:
RoHS Compliant By Exemption
Mouser #:
299-750-RC
2
$0.10
$0.20
Mfr. #:
299-750-RC
Manufacturer:
Xicon
Desc.:
Carbon Film Resistors – Through Hole 750ohms 5%
RoHS:
RoHS Compliant
Mouser #:
660-MF1/4DCT52R1200F
1
$0.06
$0.06
Mfr. #:
MF1/4DCT52R1200F
Manufacturer:
KOA Speer
Desc.:
Metal Film Resistors – Through Hole 1/4W 120 ohm 1%
RoHS:
RoHS Compliant
Mouser #:
299-27K-RC
3
$0.10
$0.30
Mfr. #:
299-27K-RC
Manufacturer:
Xicon
Desc.:
Carbon Film Resistors – Through Hole 27Kohms 5%
RoHS:
RoHS Compliant
Mouser #:
299-1K-RC
2
$0.10
$0.20
Mfr. #:
299-1K-RC
Manufacturer:
Xicon
Desc.:
Carbon Film Resistors – Through Hole 1.0Kohms 0.05
RoHS:
RoHS Compliant
Mouser #:
299-330-RC
1
$0.10
$0.10
Mfr. #:
299-330-RC
Manufacturer:
Xicon
Desc.:
Carbon Film Resistors – Through Hole 330ohms 5%
RoHS:
RoHS Compliant
Mouser #:
80-C322C104K5R
8
$0.10
$0.80
Mfr. #:
C322C104K5R5TA
Manufacturer:
Kemet
Desc.:
Multilayer Ceramic Capacitors MLCC – Leaded 50volts 0.1uF 10% X7R
RoHS:
RoHS Compliant By Exemption
Mouser #:
647-UVR1C470MDD
1
$0.32
$0.32
Mfr. #:
UVR1C470MDD
Manufacturer:
Nichicon
Desc.:
Aluminum Electrolytic Capacitors – Leaded 16volts 47uF 5×11 20% 2LS
RoHS:
RoHS Compliant
Mouser #:
625-1N5817-E3
4
$0.58
$2.32
Mfr. #:
1N5817-E3/54
Manufacturer:
Vishay
Desc.:
Schottky Diodes & Rectifiers Vr/20V Io/1A
RoHS:
RoHS Compliant By Exemption
Mouser #:
78-1N5229B
1
$0.07
$0.07
Mfr. #:
1N5229B-TR
Manufacturer:
Vishay
Desc.:
Zener Diodes 4.3 Volt 0.5 Watt
RoHS:
RoHS Compliant By Exemption
Mouser #:
571-5520251-4
2
$1.62
$3.24
Mfr. #:
5520251-4
Manufacturer:
TE Connectivity
Desc.:
Ethernet & Telecom Connectors 8/8 SIDE ENTRY
RoHS:
RoHS Compliant
Mouser #:
571-5556416-1
16
$1.16
$18.56
Mfr. #:
5556416-1
Manufacturer:
TE Connectivity
Desc.:
Ethernet & Telecom Connectors 8 PCB TOP ENTRY
RoHS:
RoHS Compliant
Mouser #:
636-182-009-213R531
1
$1.59
$1.59
Mfr. #:
182-009-213R531
Manufacturer:
NorComp
Desc.:
D-Sub Standard Connectors 9P FEMALE RT ANGLE .318″ FOOTPRINT
RoHS:
RoHS Compliant
Mouser #:
575-199314
8
$0.48
$3.84
Mfr. #:
110-99-314-41-001000
Manufacturer:
Mill-Max
Desc.:
IC & Component Sockets 14P TIN PIN TIN CONT
RoHS:
No
Mouser #:
538-22-03-2021
1
$0.38
$0.38
Mfr. #:
22-03-2021
Manufacturer:
Molex
Desc.:
Headers & Wire Housings VERT PCB HDR 2P TIN PLATING
RoHS:
RoHS Compliant
Mouser #:
151-8000
1
$0.23
$0.23
Mfr. #:
151-8000
Manufacturer:
Kobiconn
Desc.:
Headers & Wire Housings JUMPER OPEN BLACK
RoHS:
No
Info:
View Additional Product Info
Lifecycle:
End of Life: Scheduled for obsolescence and will be discontinued by the supplier.
Mouser #:
534-4902
2
$0.22
$0.44
Mfr. #:
4902
Manufacturer:
Keystone Electronics
Desc.:
Terminals TERMINAL H .438
RoHS:
RoHS Compliant
Mouser #:
159-2215
2
$0.19
$0.38
Mfr. #:
159-2215
Manufacturer:
Kobiconn
Desc.:
Terminals FML DISCONNECT RED
RoHS:
No
Mouser #:
511-L4940V5
1
$1.69
$1.69
Mfr. #:
L4940V5
Manufacturer:
STMicroelectronics
Desc.:
Low Dropout Regulators – LDO 5.0V 1.5A Positive
RoHS:
RoHS Compliant
Mouser #:
511-ST485BN
2
$0.98
$1.96
Mfr. #:
ST485BN
Manufacturer:
STMicroelectronics
Desc.:
Buffers & Line Drivers Hi-Spd Lo Pwr Trans
RoHS:
RoHS Compliant
Mouser #:
782-H11AA1
1
$0.98
$0.98
Mfr. #:
H11AA1
Manufacturer:
Vishay
Desc.:
Transistor Output Optocouplers Bi-Directional Input
RoHS:
RoHS Compliant
Mouser #:
579-PIC16F688-I/P
8
$1.74
$13.92
Mfr. #:
PIC16F688-I/P
Manufacturer:
Microchip
Desc.:
8-bit Microcontrollers – MCU 7KB 256 RAM 12 I/O
RoHS:
RoHS Compliant
Mouser #:
520-TCH1843-X
1
$2.11
$2.11
Mfr. #:
ECS-2100AX-18.432MHZ
Manufacturer:
ECS
Desc.:
Standard Clock Oscillators DIP-8 5V 18.432MHz
RoHS:
RoHS Compliant
Mouser #:
652-4608X-1LF-680
8
$0.32
$2.56
Mfr. #:
4608X-101-681LF
Manufacturer:
Bourns
Desc.:
Resistor Networks & Arrays 8pins 680ohms Bussed
RoHS:
RoHS Compliant By Exemption
Info:
View Additional Product Info
Mouser #:
299-680-RC
8
$0.10
$0.80
Mfr. #:
299-680-RC
Manufacturer:
Xicon
Desc.:
Carbon Film Resistors – Through Hole 680ohms 0.05
RoHS:
RoHS Compliant
 MERCHANDISE TOTAL:
 $63.67 (USD)
Product Detail
Order Qty.
Price
Ext.
Mouser #:
604-WP710A10IT
1
$0.10
$0.10
Mfr. #:
WP710A10IT
Manufacturer:
Kingbright
Desc.:
Standard LED – Through Hole Red 60mcd 625nm 60 deg Transparent
RoHS:
RoHS Compliant
Lifecycle:
New Product: New from this supplier.
Mouser #:
660-CF1/4C681J
5
$0.15
$0.75
Mfr. #:
CF1/4C681J
Manufacturer:
KOA Speer
Desc.:
Carbon Film Resistors – Through Hole 680ohms 5%
RoHS:
RoHS Compliant
Mouser #:
504-GMC-7
1
$2.48
$2.48
Mfr. #:
BK/GMC-7A
Manufacturer:
Cooper Bussmann
Desc.:
Fuses 125VAC 7A Med Time Delay
RoHS:
No
Mouser #:
571-2828372
5
$0.40
$2.00
Mfr. #:
282837-2
Manufacturer:
TE Connectivity
Desc.:
Fixed Terminal Blocks 5.08MM PCB MOUNT 2P
RoHS:
RoHS Compliant By Exemption
Mouser #:
571-5556416-1
1
$1.16
$1.16
Mfr. #:
5556416-1
Manufacturer:
TE Connectivity
Desc.:
Ethernet & Telecom Connectors 8 PCB TOP ENTRY
RoHS:
RoHS Compliant
Mouser #:
511-BTA04-700T
4
$1.09
$4.36
Mfr. #:
BTA04-700TRG
Manufacturer:
STMicroelectronics
Desc.:
Triacs 4 Amp 700 Volt
RoHS:
RoHS Compliant
Mouser #:
534-3517
2
$0.21
$0.42
Mfr. #:
3517
Manufacturer:
Keystone Electronics
Desc.:
Fuseholders, Clips, & Hardware PC FUSE CLIP 5 MM
RoHS:
RoHS Compliant
Mouser #:
660-CF1/4C181J
4
$0.10
$0.40
Mfr. #:
CF1/4C181J
Manufacturer:
KOA Speer
Desc.:
Carbon Film Resistors – Through Hole 180ohms 5%
RoHS:
RoHS Compliant
Mouser #:
859-MOC3023
4
$0.44
$1.76
Mfr. #:
MOC3023
Manufacturer:
Lite-On
Desc.:
Triac & SCR Output Optocouplers Optocoupler TRIAC
RoHS:
RoHS Compliant
Mouser #:
571-1-390261-1
4
$0.20
$0.80
Mfr. #:
1-390261-1
Manufacturer:
TE Connectivity
Desc.:
IC & Component Sockets 6P ECONOMY TIN
RoHS:
RoHS Compliant
 MERCHANDISE TOTAL:
 $14.23 (USD)